19th March 2023 - FOURTH SUNDAY OF LENT.
Margaret Murphy, Knock, Daingean.
Gerry Cahill, St. Oliver's, Geashill.
Bernadette Gorman, Tullamore.
Teresa Dunne, Derrygowley, Daingean.
Teresa Finneran, Castlerea, Roscommon.
KILLEIGH: SATURDAY 6.00pm
Alo Condron, Derrybeg. Months Mind.
His Wife Christina. 1st Anniv.
Andy Byrne, formerly Cloneygowan.
Paddy & Ben Purcell, Reary, Rosenallis & Deceased Purcell Family.
RAHEEN: SATURDAY 7.30pm
Fintan Murphy, Cloneygowan.
James & Annie Crombie, Kilcappagh &
Deceased Flanagan Family, Kilcappagh.
BALLINAGAR: SUNDAY 10.30am
Catherine & John Dolan, Annagharvey.
Teresa & Dinny Dunne, Ballinagar.
KILLEIGH: SUNDAY 11.30am
Edward (Ned) O'Grady, Derrybeg.
Kay (Katherine) Walsh & her son David, Killurin.
Masses during the Week:
Killeigh:
Tues 10am People of the Parish
Wed 10am: Peter & Mary Flanagan,
The Meelaghans & their son Jimmy, & daughter Nellie & Deceased Family.
Thurs 10am: Mick & Tommie Conroy,
Moneyquid & Deceased Family.
Geashill:
Tuesday & Thursday 10.00am
MASSES for Next Week-end:
KILLEIGH: SATURDAY 6.00pm
Donal Beatty, Fenter. 1st Anniv.
Michael McInerney, Derryadd. 1st Anniv.
His wife Margaret McInerney &
John McInerney, Derryadd.
Kathleen & Mick Kearns, Gurteen.
Phil Edwards & Deceased Family, Ballinvalley.
Christy Murray, Ballinvalley.
Patrick McEvoy & Tim & Bridie Feeney, Ballymacrossan.
Paddy & Martha Treacy, Castlebrack.
Kathleen McHugh, Backwood, Cloneygowan.
RAHEEN: SATURDAY 7.30pm
Molly, John, Eamon & Paddy Guinan & Deceased Guinan Family.
Jack & Betty Coleman Kilcappagh
BALLINAGAR: SUNDAY 10.30am
KILLEIGH: SUNDAY 11.30am
=======================
READERS next weekend:-
Killeigh Sat 6.00pm Beatty Family
Raheen Sat 7.30pm Stephan Coleman
Ballinagar Sun 10.30am Paul Bolger
Killeigh Sun 11.30am Kevin Hynes
Killeigh E. Ministers Sat nights:-
Mar 25
th
Ann Geraghty & Dolores Martin
Raheen E. Ministers next week are:-
Mar 25
th
Mary Begnall & Eithne O'Byrne
Ballinagar E. Ministers next 4 weeks:-
Diocesan Collection
for Syria and Turkey
An astonishing €227,013 has been received from 40 parishes and some private donors to date. This is an amazingly generous response from people and has been forwarded to Trócaire.
THANK YOU FOR YOUR GENEROSITY
Clothes Collection this Monday 20th March at all churches.
In aid of Killeigh Tidy Towns & Geashill Wednesday Club. Clothes can be left outside any of the church walls before 10am Monday.
Killeigh Senior Citizens Committee are holding their AGM this Mon 20th of March in the National School for 8pm. All are very welcome to attend.
RAHEEN GAA 50TH ANNIVERSARY CELEBRATIONS LAUNCH NIGHT
2023 marks the 50th Anniversary since the formation of Raheen GAA Club in 1973 with a number of events planned throughout the year to celebrate this great milestone. A Launch Night in Direen's, Cloneygowan on Friday 24th March from 9pm when full details will be made known. All Welcome to attend.
North Offaly Community Development - Volunteer Drivers needed for Meals on Wheels in the Killeigh area.
Can you spare an hour at 12.30pm?
Geashill Wednesday Club:
This Wednesday Wood Carving Course continues from 10am-12 in Geashill Old School. You are sure of a great welcome and a cuppa. (€3). Men and Women welcome.
=======================================
Happy Mothers Day:

Loving God, we thank you for Mothers – for all they mean or have meant, for the love they have shown and the care they have given. Amen.
Raheen Church Choir:
Choir will re-assemble for Saturday evening masses beginning this Saturday night. Any person is welcome to join the choir.
Solemn Novena to Our Lady Of Perpetual Help
In St. Peter & Paul's Church, Monasterevin, Thursday 23rd March – Saturday 25th March.
PLEASE JOIN US IN PRAYER. ALL ARE WELCOME
Growth in the Holy Spirit Monthly Retreat:
St. Peters and Paul's Parish Church Portlaoise -
Saturday 1st April 10am - 1.30pm.
Holy Mass @
10.am
- Confessions available.
Retreat continues in old Sacristy (behind Altar) from 10.45am - 1.30 pm
(Exposition, Rosary, Holy Spirit Novena, Praise & Worship, Teaching, Prayer Ministry.
Contact: 086 8157305.
All Welcome.
Accord is currently recruiting volunteers to train as marriage preparation facilitators. Marriage facilitators are part of a team that prepare couples for the sacrament of marriage. Couples find our courses fun, engaging and very relevant, while facilitators gain valuable life skills. Contact

marriagepreparation@accord.ie
for more information please.
Medjugorje Group Pilgrimage
7 Night Package July 5th to 12th
Costs 745\PPS Flight Dublin to Split. Spiritual Director: Fr. Sean Hyland Booking Contact: Michael Nerney on 086 8157305
PARISH OFFICE TIMES:-
Tues, Thurs & Friday 10.30-12.45
Sympathy Cards and Mass Bouquets:
Available in the Sacristies after masses.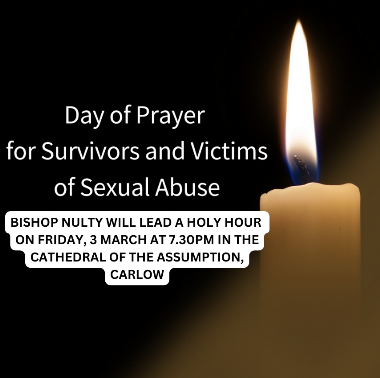 Changed Mass times.
Saturday evening Mass in Killeigh is at 6pm.
Saturday evening in Raheen at 7.30pm

Sunday morning in Ballinagar at 10.30am

Sunday morning in Killeigh at 11.30am
These times are provisional.
Interesting Catholic News
DRAW 2022 RESULTS:-
1st Prize
Mary Purcell, 19 Hillview Killeigh
2nd Prize
Natalie Middleton Hawkswood Killeigh
3rd Prize
Tom Cleary, Derryweelan Geashill
4th Prize
Jane Direen, Fearnamona, Geashill
5th Prize
Maria and Denis Bannon, Killeenmore
6th Prize
Chrissie Scully, Main Street, Daingean
7th Prize
Paul & Jennifer Garry, Ballykeane Geashill
8th Prize
Michael Cushen, 3 Abbey Park Killeigh
9th Prize
Eamonn Dunne, Ballymacrossan, Geashill
10th Prize
Teresa Leogue, Killeenmore, Killeigh
Sponsor
Condron Dismantlers Ltd, Cappincur. (Liam Condron)
PLEASE SUPPORT OUR SPONSORS
Pat Joe & Frieda Kinnarney
Pat Hinch Tyre & Wheel Mart Ltd
Cash & Carry Furniture (Nuala Byrne)
Condron Concrete Works (Brendan O'Rourke)
Bramwell Steel Supplies (Kevin Hynes)
Condron Dismantlers Ltd (Liam Condron)
Andrew Dooley & Breda Dooley
Carroll Design & Surveying Ltd (Shane Carroll)
TORO SECURITY & ELECTRICAL LTD (Tony Purcell)
Slieve Bloom Veterinary Ltd (Donal Lynch)
Conor Murphy & Margaret Murphy
John Kelly T/A JK Timber Flooring
Clonmore Sawmills (Mick & Ann Dunne)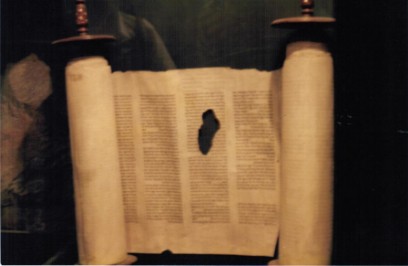 A Copy of the Scroll of the Prophet Isaiah, found in 1948 in a cave near the Dead Sea.
Carbon dated showing it was writen in 70 B.C.
A Pandemic Update from Bishop Denis.
The Bishops Conference will meet in in March to review the situation.
Meanwhile the continuation of the following protective measures is recommended
to ensure the safety and wellbeing of the vulnerable or anxious members of the congregation:
-The
wearing of face covering
s
inside the Church buildings;
-Good
sanitising and cleaning
arrangements;
-
Suspension of a handshake
as the Sign of Peace;
-
Holy Communion to be received in the hand
;
-
Holy water not yet restored to fonts
for communal use at the entrances to Church buildings.
Please continue to
wear masks, sanitise
and maintain
social distance
.
Every blessing, + Denis Nulty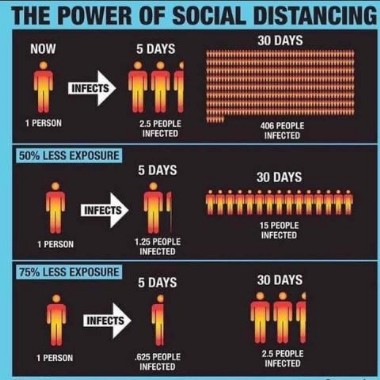 SLIDE SHOWS:-
Visit your ancestors grave in
A CATHOLIC UNDERSTANDING
of The Bible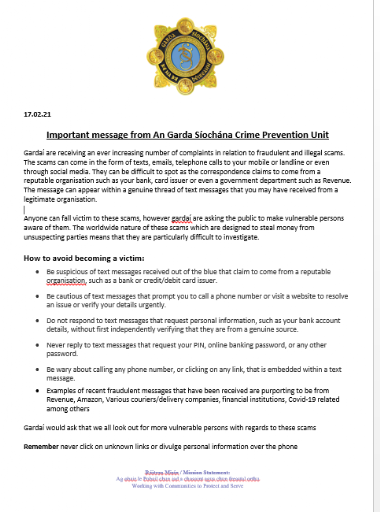 Warning signs of a STROKE:
The following can help you recognise if someone is having a stroke and ACT FAST if you see any of them.
F – FACE: Ask the person to smile-does one side droop?
A – ARMS: Ask the person to raise both arms and keep them there.
S – SPEECH: Can the person repeat a sentence? Is their speech slurred?
T – TIME: If you see any of the above signs –

even just one

– call 999 for an ambulance
/////////////////////////////////////////////////
Suicidal Thoughts?
Share the Load!
….others can help you carry it.
Midlands Living Links
086-1600641
MABS – Money Advice
– Hibernian Hse, 076-107-2710 (free & confidential).
C.I.C. – Citizens Information Centre
Mon-Sat, 10.30am-12.30pm
057 9352204.
Samaritans:
1850 60 90 90
Pieta House 1800 247 247 or 0818 277 438
Samaritans new freephone number 116 123
visit www.3ts.ie/need-help/ for a full list of crisis helplines
We can help! Contact Offaly Domestic Violence Support Service (ODVSS)
on our
Confidential Information Line
057 9351886.
(Open Mon to Fri 10am to 12pm2pm to 4pm)
Have you got a number in your phone after the letters I.C.E.?
In Case of Emergency?

DO IT NOW!
Grow:

World Community Mental Health Movement in Ireland.
You alone can dot it,
but you can't do it alone.
If you are anxious, depressed,
or feeling suicidal,
GROW can support you.
Strictly Confidential.

www.grow.ie


Young Adult Group Monday 7.30pm,
Community Group Thurs 3.00pm
Community Health Centre 057 9351124.
Pontifical University – St Patrick's College, Maynooth.
Higher Diploma in Theological Studies One-year part-time evening course. Lectures are held on: Mon's & Wed's 6.30-9.30pm
Four Saturdays ( 2 Sat every semester) 10am – 4pm. Info etcContact 01-7084772 email:
admissions@spcm.ie
or
maynoothcollee.ie